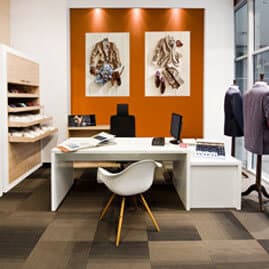 Book an appointment!
Talk to our consultant and check-out the fabrics and cuts available!
Consultant: Łukasz Dusza
Phone: +48 510 793 585
Made to measure suits in Gdynia, Gdańsk and Sopot
Tailored suits are back in favor. Their popularity increases every year. They owe their great return to high-quality workmanship.  Do you like tailored suits? Now also Tri-City can benefit from a great sewing service tailored to men's clothing.
Our new showroom, dedicated to residents of the Tri-City and the surrounding area, is located in Gdynia at Al. Zwycięstwa 250. A large number of fabric samples and elegant accessories awaits you in our showroom. Importantly, a professional advisor will be at your disposal to help you choose suits that match your style and the latest trends.
We also offer services in customer's place. You can choose any place in the Tri-City. We'll get to your office or home. The consultant will bring sample suits and fabric samples. It will tell you what is currently the most fashionable and what styles are timeless.  Your taste counts for us, which is why we are open to any suggestions. You can choose your favorite colors and styles. We will certainly find something perfect for you.
Are you getting ready for the wedding? You don't know how to choose wedding suits? Gdańsk, Gdynia or Sopot is a great place for a try! VAN THORN offers the best wedding suits. Our advisers and tailors know exactly what to wear at a wedding. We know the needs of the grooms and best men. We are aware of the fact that on this magical day you have to be elegant and classy.
After selecting preferred style, the adviser will take all the measurements. After 4 weeks suit, tuxedo, jacket, pants or shirt will be ready for a fitting. Trial fittings take place in our showroom in Gdynia or other place agreed with the client.
Meetings with our adviser, Mr. Łukasz Dusza in the Tri-City means 100% focus on customer comfort. You don't have time to go to a tailor, a tailor-made suit will come to you. Regardless of whether it is Gdańsk, Gdynia or Sopot, we will take the measure at your office or home ..
With all this comfort, every customer has access to the best Italian suit, shirt and casual fabrics that can meet even the most sophisticated tastes allowing you to personalize your wardrobe in a truly unique way.