Shoes
Smart shoes are necessary in gentleman's wardrobe. Wheter you go for a business meeting or you are a groom you can always go for
The black cap-toe oxford
You will need a black shoes always when you want to be articularly smart, and a black cap-toe oxford covers the most bases. An oxford is the smartest lacing style and black is the smartest colour.
The cap-toe is in between a whole cut shoe where nothing interrupts simplicity and elegance of the shoe – and a wingtip brogue where a lot is going on. Ultimately, the cap toe is almost OK with black tie, and perfect for any business suit. You can also use oxfords without a cap toe.
For more everyday business you may need shoes in brown or cognac colours.
Dark-brown (dark chocolate) still works with most suits, and if needed can also be paired for a whole range of odd jackets and trousers.
At VAN THORN we have all the classics needed for smart business and smart casual occasions starting from the patent leather shoes for tuxedos thru black and brown oxfords, derbies and brogues up to loafers and elegant sneackers.
All our shoes  are handcrafted in Italy, Spain or Portugal and made from 100% calfskin leather.
If you however want some other style you can always use a custom shoes service with provide together with Italian Borgioli shoes. You can select from vast array of leathers and styles. This service takes about 6 weeks.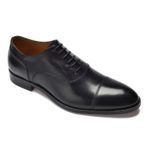 The most elegant and formal footwear - shoes with closed upper called Oxford shoes. They are suitable for evening suits in dark colors (black, navy blue, charcoal, etc.),. They can also be used in more casual styles, provided that the color of the pants will not be too light.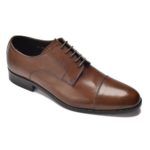 Elegant shoes with open upper, also called derby. They are less formal than shoes with a closed upper, so they are perfect for everyday suits, coordinated and casual sets.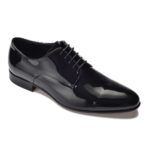 Patent leather shoes are for special occasions; for evening suits and tuxedos. It should be remembered that on such occasions the shirt may be only white and the tie dark.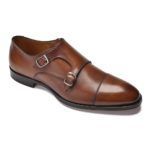 Monks are the shoes fastened with one or two straps. They make the greatest impression on bystanders; are rare enough to attract a lot of interest. They are also very stylish, especially when combined with an less formal suit or with smart casual set.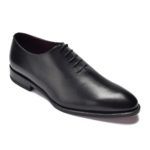 Wholecut shoes are a very beautiful and rare type of shoe. Like an uninterrupted form of an upper made of one piece of leather, it makes them unique. In terms of formalities, they are on a par with Oxford, so they are suitable for evening suits and tuxedos. Due to their uniqueness, they can be an ideal choice for the groom for the wedding.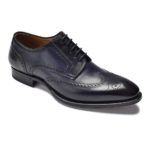 The essence of the brogues are decorations in the form of punches. They are shoes for daily use, for suits in all colors as well as for coordinated and club sets and casual sets that combine a jacket with jeans or chinos. They also work well in light summer styles combining chinos with a colorful shirt or polo shirt.